The GODE team will participate in SCALE 20x, the Southern California Linux Expo, to communicate and learn from blockchain teams around the world.

The GODE team is proud to announce that they will be invited to SCALE 20x, also known as the Southern California Linux Expo, an annual conference focused on open source software and Linux. The event will be held March 9-12 at the Pasadena Convention Center in Pasadena, California. The GODE team will communicate and learn from blockchain teams from around the world.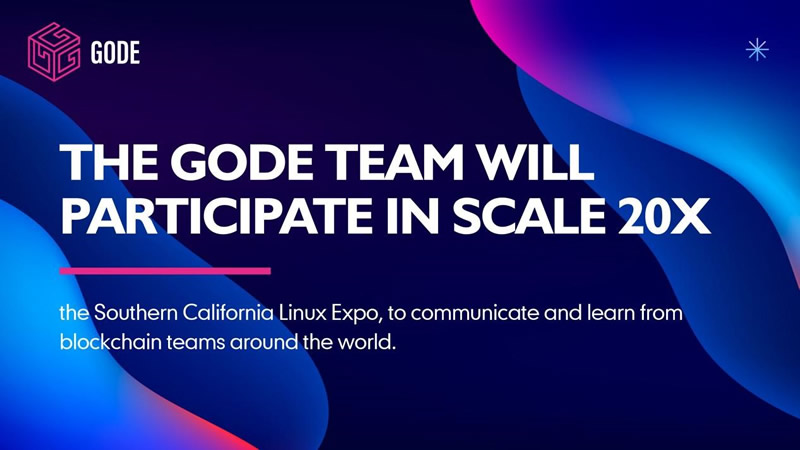 At SCALE 20x, attendees will have the opportunity to participate in a variety of events such as keynote talks, demonstrations, workshops and exhibitions related to Linux and open source software. In addition, the event provides networking and collaboration opportunities, providing a platform for attendees to share experiences and ideas with their peers.

The GODE team is looking forward to participating in SCALE 20x and looking forward to communicating and learning with other blockchain teams, sharing experiences and ideas, and discussing future developments in blockchain technology. As a team dedicated to advancing the development of blockchain technology, GODE will continue its efforts to contribute to the realization of more secure, transparent and efficient blockchain applications.

The GODE team believes that interacting with SCALE 20x participants is a valuable opportunity to provide more ideas and inspiration for future development of GODE. At the conference, the GODE team will engage in-depth exchanges and discussions with blockchain teams from around the world to better understand trends in blockchain technology and future application directions.

As a basic public chain, GODE adopts a heterogeneous multi-chain framework with practical in-situ core scalability to achieve multi-chain coherence and become a cross-chain delivery blockchain web3.0 basic public chain..At the same time, GODE is developed in a free and open manner, accepting any useful contributions..The specification of its protocol is under a Creative Commons license, the code is under a FLOSS license, and is intended to be a truly free and open project.

SCALE 20x will provide the GODE team with a platform to showcase its technology and ideas, as well as bring additional opportunities and challenges to the team. The GODE team is looking forward to an extensive exchange and collaboration with developers, entrepreneurs, investors and other blockchain practitioners from around the world at this conference to jointly advance the development and innovation of blockchain technology.