In 2014, Dr Gavin Wood proposed a revolutionary vision for Web3 and subsequently launched the Web3 Foundation. His philosophy is that Web3 is a broad set of movements and protocols launched to make the Internet more decentralised, verifiable and secure; that the Web3 vision is to achieve a serverless, decentralised Internet, i.e. an Internet where users are in control of their own identity, data and destiny; and that Web3 will launch a new global digital economic system, create new business models and new markets, break platform monopolies and drive widespread, bottom-up innovation.

In 2017, entrepreneurs have started to explore DApps for Web3. The initial startup idea of entrepreneurs in the industry in the Web3 space was to benchmark Web 2.0 Apps and develop a Web3 DApps accordingly.These DApps formed the initial product matrix for Web3.

This development idea, although not necessarily the final development posture of Web3, reflects the exploration of Web3 in its early stages of development.

In 2020, a group of crypto geeks launched the Web3 technology revolution, forming the DAS project group, defined as a new generation of public foundation chain projects and a distributed trust collaboration platform.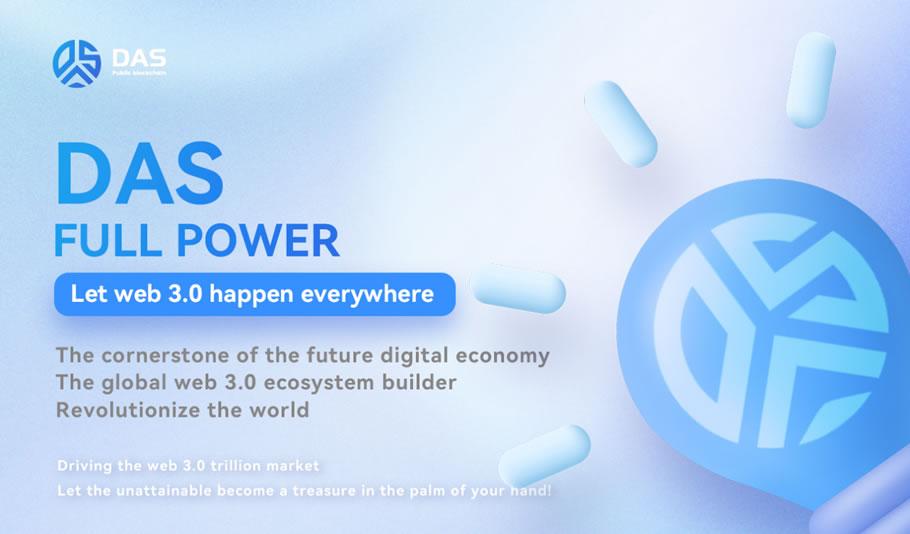 DAS's ambition is to build a core network for Web3, solving the performance dilemma by optimizing consensus and increasing the capacity of blocks. The core network serves as the backbone of Web3, bridging various independent public chain ecologies, forming a mesh structure of overlapping backbones and branches, breaking the silo effect and turning the blockchain into a truly integrated network of interconnection, interoperability and mutual operation, allowing Web3 to truly play its value.

In the first phase, DAS will build a high-performance Webb 3.0 public chain that will provide stronger compatibility and larger storage performance for DAS's future ecological applications, and combine with IPFS distributed storage technology to enable itself to store data on a large scale while also enhancing data privacy and making it less susceptible to tampering.

In the second phase, DAS proposes the concept of a decentralised, configurable core network plus a Layer 2 on-demand sidechain network that provides distributed storage capabilities to support high-throughput, low-cost, low-latency transactions.In addition, DAS will build a unified standard communication protocol that will allow participants from completely different systems to communicate and hook up with each other.The DAS core network is also compatible with virtual machine programming databases such as EVM, has an independent distributed storage system, and can prove the configuration and deployment of secure Byzantine fault-tolerant sidechains. each sidechain on the DAS core network is highly configurable and accomplishes communication, interaction, and mapping between the core network and the feeder network, and between the feeder network and the feeder network, without changing the independence of the public chain.

Finally, based on the unique multi-role architecture of DAS, which is designed to scale without the need for partitioning, and thus has been greatly improved in terms of speed and throughput, it will become the world's first social eco-class public chain with a billion-level carrying capacity and 100,000-level concurrency, truly enabling global users to chat, video, interact freely in the Webb 3.0 world, and even meet more scenarios such as business and immersive gaming.

Web3 will create a new global digital economy, giving rise to new business models and market economies, and generating a wealth of bottom-up innovation, with the emergence of DAS taking us one step closer to an Internet world of efficiency, fairness, trust and value.