In 2021, metaverse and NFT are active and strong in the eyes of investors. It has been verified by the market that game is the best expression of the combination of metaverse and NFT field. It is not difficult to imagine that GameFi, which earns while playing, is bound to be a potential industry that will continue to be noticed and grow in the future. Under the boom of the general trend, the development of GameFi will face some challenges and the development is not smooth all the way, and a higher quality of experience and immersion will be what the whole industry and users need.

In this context, ARES was born, a decentralized pan-entertainment social meta-universe platform.

ARES is a pan-entertainment social meta-universe aggregation platform co-founded by Dynamic funds team and former Google Artificial Intelligence Lab R&D executives and core members of global top 500 Internet companies in 2020. ARES will be dedicated to building a pan-entertainment meta-universe aggregation social ecology, providing global users with a collection of entertainment social channels, and realizing the reshaping of a truly global digital world connection through the DAO organization form and the launch of digital financial services.

The ultimate goal of ARES is to build a pan-entertainment social series of ecological meta-universe linking the virtual and real worlds. According to the official disclosure, the team will next go all out to develop multiple applications, which include Web3.0, GameFi, Social metaverse, AresSwap, and pan-entertainment NFT exchange.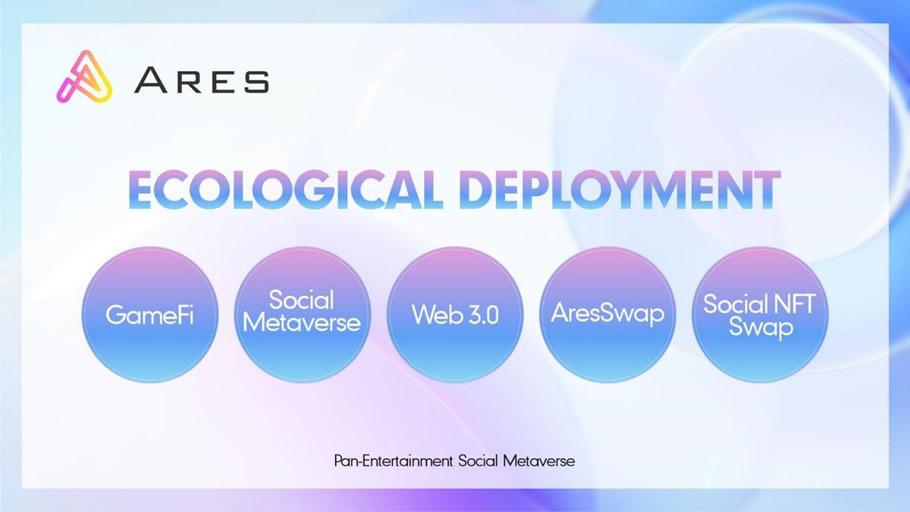 ARES pioneered the first de-trusted, decentralized custody network applicable to the governance and compliance processes of digital assets, secured by multi-party computing, enabling decentralized custody, cross-chain atomic swaps, cross-chain credit facilities and liquidity access. Not only that, ARES operates at the forefront of blockchain cybersecurity and blockchain industry, they use the latest cryptography and distributed ledger technology to build a robust global network, thus guaranteeing that users' NFT digital assets can be securely hosted and traded.

According to the official news, ARES will soon launch the first Gamefi ecological game "God of War", and will open the sale of Phantom God board NFT after the launch; next AresSwap, Social metaverse, and Web3.0 applications will be landed simultaneously, with the aim of first promoting its own economy model to drive the development and operation of other boards. At the same time, ARES uses the DAO-based Social metaverse developed by itself to connect every board in the platform, so that users and players around the world can interact and communicate in different environments and situations. ARES has been pushing the organizational form of ARES DAO to start managing and operating the platform and digital financial services from the beginning. ARES DAO adopts the natural decentralized operation and management method of blockchain, decentralizes the governance and utilizes the equivalence of rights and obligations of each node in the blockchain to ensure our user community can get equal rights and obligations. At the same time, giving back to each and every user who contributes on ARES DAO.

The attractiveness of ARES DAO will bring many people who were not exposed to blockchain and cryptocurrency in the past into the field of blockchain and crypto digital currency, injecting a lot of "fresh blood" into this field, thus building a strong enough open ecology to generate a positive cycle of economic mechanism within the platform through the combinability of internal and external structures.





The official disclosure also includes ARES' original pan-entertainment NFT exchange. It is reported that ARES will build a pan-entertainment NFT exchange in order to realize the efficient circulation of NFT and let more users and players enjoy the dividends of the digital market development, and the exchange integrates Token trading, NFT asset trading, lending and leasing as a comprehensive trading platform. It provides ARES ecological users with an infrastructure for game NFT asset trading, revenue realization, and pass exchange. The pan-entertainment NFT exchange focuses on GameFi and meta-universe type trading, meeting the demand for trading and exchange of meta-universe and NFT chain tour assets, as well as the demand for trading of ARES' own governance pass and ecological pass.

We believe that in the future ARES will develop more interesting, secure and simple social applications and combine more playable GameFi into a larger pan-entertainment social meta-universe. In the ARES Metaverse built by ARES, global gamer users can naturally interact with other user players, things, environments and the real world in an immersive way.